Bronchoscopic Lung Volume Reduction
Why BLVR?
Advanced emphysema (COPD) is an oftentimes difficult condition to treat. Symptom relief with medications and oxygen can often be sub-optimal, especially in the context of significant hyperinflation. Good data exists with regards to the efficacy of surgical lung volume reduction in these settings (see NETT trial), however, the potential for significant morbidity and mortality from this procedure has led to a great interest in finding more benign means of treating severe hyperinflation in COPD patients. This has resulted in the development of the field of bronchoscopic lung volume reduction (BLVR), to enable similar outcomes, with substantially fewer risks, in a much less invasive manner.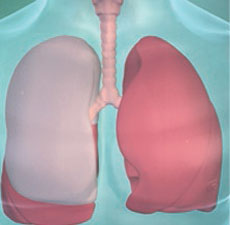 What is BLVR?
A non-surgical means of attempting reduction in volume of hyperinflated lung segments.
Insertion of one-way valves into the airways, which allow gas and mucous to exit the targeted area
of the lungs, but do not allow the re-entry of air into the targeted segment.
Results in atelectasis of the affected lobe, and consequent lung volume reduction.
Reduction in hyperinflation can lead to significant improvements in lung function, breathlessness
and quality of life.
Who is right BLVR?
Severe COPD, with an FEV1 < 50 per cent predicted
Emphysema on CT scanning
Evidence of hyperinflation on lung volumes
What is involved?
First Visit – Assesment
A thorough assessment of the patient's potential suitability for the procedure.
Up to date pulmonary function tests, CT scans and oxygen assessments will be organised if not recently performed.
Pulmonary rehabilitation will be arranged if not completed within the previous 12-24 months.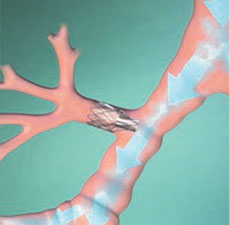 Initial Bronchoscopy – Chartis discovery procedure
An initial bronchoscopy will be performed if the functional tests suggest that bronchoscopic valves are likely to be beneficial, and that the patient is likely to tolerate the procedure.
Used to assess the air-flow dynamics throughout the lung, to ensure that there is a significant likelihood of successful valve placement leading to lung volume reduction and lung lobar collapse.
If the patient is not suitable for BLVR with valves, new technologies, such as endobronchial coils, are on the horizon to assist patients with advanced breathlessness due to emphysema.
Second Bronchoscopy – Valve placement procedure
Placement of multiple one-way valves (3 valves average) in the airways of the pre-determined lung lobe.
A short hospital stay is required after the procedure, as some complications are possible.
After the Procedure?
The patient will then be referred back to their physician and further testing with lung function and 6 minute walk distance are likely to be performed as follow up of the procedure.
If successful, significant improvement in function and quality of life is potentially achievable with this procedure.